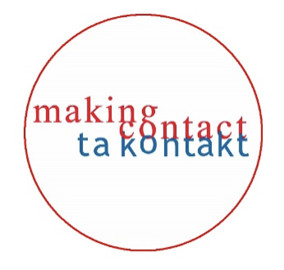 A chance reunion at the Royal West of England Academy (RWA) Open Exhibition in Bristol between Grafiska Sällskapet member, Jenny Palmer, and an old friend, Dr Wendy Rhodes from the Gloucestershire Printmaking Cooperative (GPC), has blossomed into an exciting international collaboration between the two organisations bringing together 39 printmakers under the project title 'Making Contact/Ta Kontakt'.
Jenny and Wendy first met when they both lived on Unst, Shetland, and met again after more than 30 years – they had much to catch up on! Through their conversations they thought it would be lovely to share their experience of regaining contact by expanding the possibility to a wider group of printmakers, especially so after the experience of the pandemic.
'Making Contact/Ta Kontakt' draws upon ideas of collaboration, conversation and friendships forged and will culminate in two exhibitions: the first at Grafiska Sällskapet in Stockholm, 27th May – 18th June 2023, and the second at Sixteen Gallery in Cheltenham, Gloucestershire, in the U.K. from the 23rd November to the 6th December 2023.
The intention is that this collaboration will provide an opportunity for printmakers to work together in pairs and learn more about one another and their different ways of working in print. The artists' responses to this theme can be the result of a physical print exchange, prints made independently but discussed and inspired by one another, or prints where both have contributed visual elements to one final image.
Please do follow the project on www.instangram.com/making.contact_ta.kontakt the dates in your diary. More to follow!
A project founded by:
www.instagram.com/wrhodesart, Gloucestershire, and www.instagram.com/jennyp_almer, Stockholm.
www.instagram.com/grafiskasallskapet www.instagram.com/gpc_print