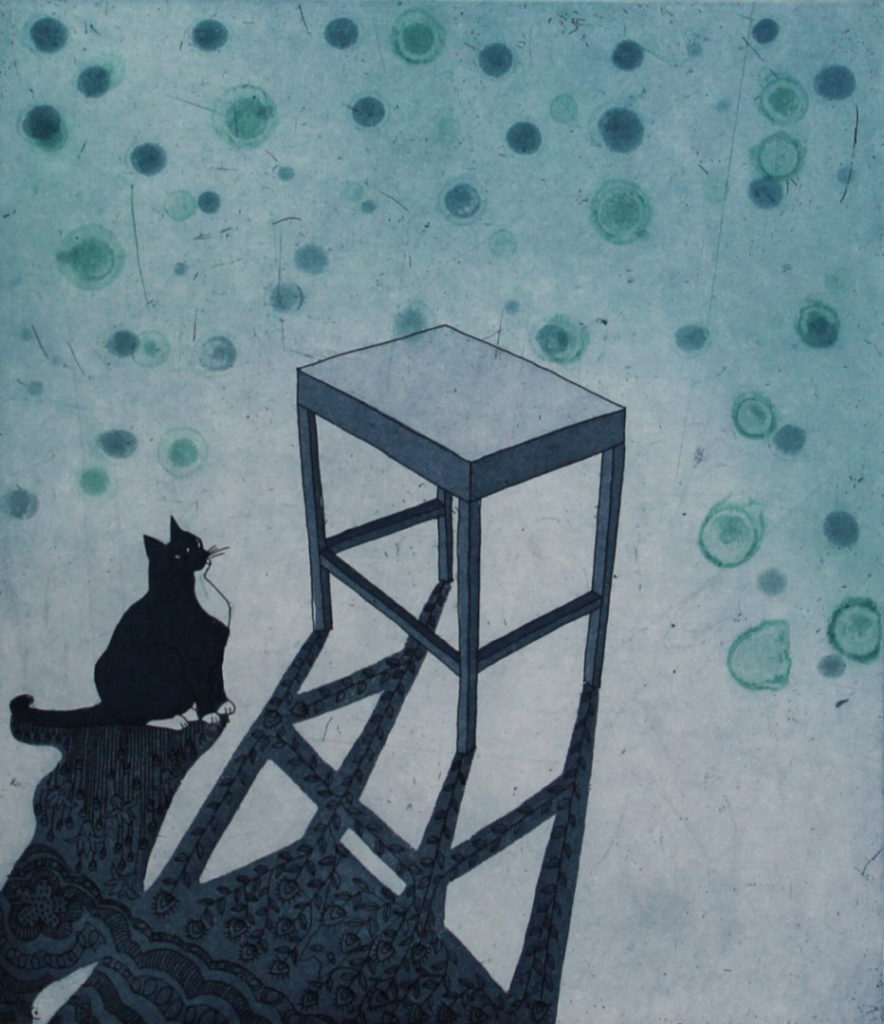 Yoko-Akino-Negative-Capability
Tell us a little about your exhibition:
The title of our exhibition is Points, Lines and Perspectives.
Though we speak different languages we each follow the same power of a line drawn between points to interpret and understand our world. Through travel we met as artists and became friends, moving between points and lines on maps, exchanging ideas and ways of seeing the world around us. This show marks a point of intersecting lines of our journeys through life and art to share our shifting perspectives, where we have found rich harmony in different visions.
What technique, material and tools do you use?
Marta:
I work in various relief and intaglio printmaking techniques. The large size nudes with rowan in the exhibition are multi-plate linocuts. I used carving tools and knives to gouge the image out of linoleum plates. My small prints of nudes are etchings and also most recently I have been using drypoint. When I work in etching I use copper plates and etch with nitric acid and when working in drypoint I like using polycarbon plastic sheets on which I draw using a metal needle, sand paper and odd wire tools I get in the hardware shop.
Yoko:
I work with etching and aquatint on copper plates.
Maev:
For this exhibition I have used lino and woodcut. I printed on thin Chinese and Japanese papers using Vandercook and FAG proofing presses which I then pasted to hahnemule paper.
What are the sources of your inspiration? What did you think of during the work process, and what does the process look like?
Marta:
I do some life drawing sessions and also draw from my head. When drawing nudes I do not really focus on proper anatomy; the lines I make and expressing energy is more important for me. I like working on several plates simultaneously and on different series at the same time. For me it is important to not overwork an image. My main inspiration is nature and the human body. In this exhibition I am showing nudes. But I also work in landscape and botanical prints. These would be my three main themes.
Yoko:
I take inspiration from my surroundings and distil images through meditative drawing. I am inspired to make poetic imagery, especially based on the Irish landscape.
Maev:
I start my work from sketches observed from the world around me. At present my work is inspired by wood and trees both as material and as subject, and the desire to tell something of my awe of nature. My process involves letting ideas breathe. I begin with no clear idea of where the images will go, allowing the printing process to suggest unforeseen possibilities.